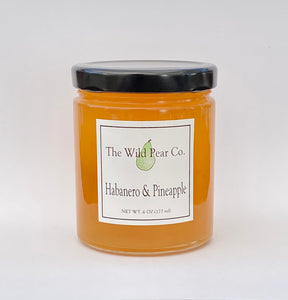 Calling all Pineapple & Habanero fans!
This jam is primarily pineapple based, which gives the first hit that wonderful sweet tropical tang, and then......
bam!
This one is definitely a slow burn.
First you taste the pineapple, and think hmmm, OK, and then the Habanero heat sneaks up on you.
Maybe our favorite one to watch people try!
It's hot, but it's not over the top hot.
The pineapple creates a nice cushion as well as a unique flavor.
Wildly popular with cheeses of all different types, a common favorite being cream cheese, but also delicious on grilled meats or fish or anything you want to add a little tropical heat to.